The inauguration encompassed far more than the summons and investiture. The modern university has a complex variety of constituencies, and while all joined together in common support of the institution, the differing roles were deservedly singled out for notice and for a chance to celebrate this inaugural moment.
It is perhaps appropriate that the three days of inauguration festivities opened with a luncheon on Thursday, October 20, for Rice staff members on the Anderson-Clarke Center lawn. During months of planning, the inauguration committee had drawn on efforts by myriad staff members across campus—from Public Affairs, the Rice University Police Department, Development and Alumni Relations, Facilities Engineering and Planning, and so on. Key to implementing the plans of the inauguration committee was Kelly Quin, assistant vice president for campaign and constituent strategy in Development and Alumni Relations. Members of all those units and every other from across campus came together for a festive buffet meal from noon until 2 p.m.

Beyond those directly involved in the planning, however, the inauguration events were made special by the enthusiastic participation of so many Rice community members in embracing and celebrating President DesRoches. At noon, more than a thousand people began to gather on the lawn of the Anderson-Clarke Center. Since early morning, decorating had been underway. Houston Deco Balloons erected a large balloon display in Rice's colors at the northern edge of the lawn, positioned perfectly for Instagram-worthy selfies with friends and with President DesRoches. Along the lawn fronting Entrance 8 Drive, a long sign, festooned with images of stars and flowers, proclaimed "Rice Inauguration 2022."
Normally a sedate location, dotted only with Joseph Havel's mischievous sculpture, "In Play," the Anderson-Clarke Center's lawn buzzed with activity to a degree it had perhaps never witnessed for these two hours. The food tent had three lines to serve the food prepared by Gatlin's BBQ, an appropriate choice given that owner and pitmaster Greg Gatlin is a Rice alumnus. A vegetarian line and two lines for meat options allowed the crowds to get their food quickly under the beautiful clear sky and then head to one of the many tables arrayed both near the building and under the trees. Others retreated to the tables provided in the air-conditioned interior of the Anderson-Clarke Center. Dressed casually in a Rice polo shirt, President DesRoches moved enthusiastically through the throng, greeting and talking with as many people as possible, to the point that his brief remarks took place a bit later than planned, after an introduction from Korin Brody, chair of the Staff Council.

On Thursday evening, beginning at 6:30 p.m., a faculty dinner celebrated the faculty's role at the university. For this event, the temporary structure dubbed the Inauguration Pavilion made its debut. Situated outside the Sallyport on Founder's Court, the structure included a large tent with ebullient fresh flower arrangements, with yellow roses and blue hydrangeas standing out, on pedestals situated inside the entrance. Round tables seating ten, also beautifully adorned with matching flower arrangements, filled much of the interior, with a stage on the south side. Outside was a patio area on each side of the tent, with seats, tables, and ample room for conversation. Large balloon-like lights gently lit the scene and complemented the use of balloons as decoration at various inaugural venues.
The dinner was black-tie optional. Around 6:30, p.m., sharp-dressed faculty members, many accompanied by a guest, made their way to a check-in area outside the entrance and then moved around to enjoy drinks and hors-d'oeuvres on the patio. Reception music was provided by Angela Ryu, violin, Emily S. Richardson, violin, Conor McAvinue, viola, and Nathan Hsu, cello, from the Shepherd School of Music. At about 7:15 p.m., chimes called everyone to their pre-assigned tables for an impressive meal catered by City Kitchen (which catered all events in the Inauguration Pavilion). Amid the buzz of conversation, this delicious menu was served and enjoyed:
Shrimp Louie and bibb lettuce wedge salad with egg, pancetta crisp, hive batons, cherry heirloom tomatoes, and avocado dressing
Braised beef short ribs with Cabernet-thyme reduction and crispy leeks, spaghetti squash, and asparagus
Pecorino and hazelnut biscuits
The program was brief but substantive. Mr. Ladd welcomed everyone and talked a bit about the extensive search he led that resulted in President DesRoches's selection:
Greetings. It is my pleasure to welcome you to the faculty dinner celebrating the inauguration of Reginald DesRoches as the eighth president of Rice University.
When the Rice Board of Trustees embarked on a search for our next president more than a year ago, we knew we wanted a proven leader who will be transformational, who will lead Rice to even greater heights in research and international recognition. A leader who is inspirational and universally respected, who is visionary, strategic, and kind. We knew that such a leader is rare yet befitting an institution that aspires to extraordinary impact.
And so, we are indeed fortunate to have found this leader right here, among us in the Rice community. Our board of trustees couldn't be more pleased to be working with Reggie DesRoches and you, our outstanding faculty, to advance excellence in all we do at Rice.
Mr. Ladd then introduced Howard R. Hughes Provost Amy Dittmar, who joined the DesRoches administration August 1.
And now I am pleased to welcome Rice Provost Amy Dittmar. I hope you have all had the opportunity to meet Dr. Dittmar and become familiar with her remarkable credentials, including her distinguished scholarship in economics and finance. Amy has invaluable experience as a senior administrator at the University of Michigan, where, as senior vice provost, she helped lead the university through the COVID-19 pandemic, championed free tuition for low-income students, and oversaw strategic, academic, and budgetary initiatives at the university.
We are grateful to have such a capable and accomplished leader serving as our provost and working with our new president to carry out his vision. Please join me in welcoming Rice University's Provost Amy Dittmar.
Provost Dittmar talked about the traits of Rice that led her to apply to serve as provost and her early impressions of the institution in her role as chief academic officer:
Thank you, Rob and good evening, everyone! It's great to see you in one place celebrating such a great institution and a new and inspiring president—Reginald DesRoches.
Since I arrived at Rice three months ago, I've often thought—what a great time to be at this university.
Rice's student body is growing in size and diversity. Our faculty—you—are at the top of your fields, doing great work both inside the classroom and out. Our deans are fresh, enthusiastic, and driven. And, our administrative leaders are strong, especially the one at the top.
It was a combination of these things and more that led me to apply for the provost position last spring. During my interview, I was impressed by the level of excellence in all things across campus. I could tell that the people here were completely dedicated not only to the university's mission, but the pursuit of knowledge and discovery.
People at Rice want to change the world. So does our president.
Reggie has a distinct vision for Rice that will elevate the university to new heights without compromising its core values and attributes. You have heard about some of his vision pertaining to research, graduate programs and diversity, equity, and inclusion, but you will learn more over the coming days and months.
As a result, I'm sure you will be as excited as I am about the future of Rice.
What our new president wants to accomplish will take hard work, but what I've learned thus far about people at Rice is that they are not afraid of rolling up their sleeves and digging in to get things done.
I've also learned, and I'm sure many of you already know, that Reggie is not an authoritarian leader. He is open, and inclusive. He listens, he takes consensus, and he acts accordingly and decisively.
I am confident that this is the way he will lead us through the next several years at Rice to carry out his vision and more. And, Reggie, I am here to say that we, the faculty at Rice University, supports you and is here to help you form and carry out what is best for this university, its students, and the world it impacts for the betterment of all.
Next to address her assembled colleagues was speaker of the Faculty Senate Alexandra Kieffer, who is an associate professor of musicology in the Shepherd School of Music. She expressed the faculty's enthusiasm about the new president and its eagerness to work together in moving forward the university's goals in research and teaching:
I am honored to be here as speaker of the Faculty Senate, at this lovely dinner that begins the festivities and celebration surrounding the investiture of our new president, Reggie DesRoches. This is a joyous and optimistic time for our university, and I think we are all excited to be part of these celebrations.
I have to admit I took on this role of speaker of Faculty Senate with a certain amount of trepidation, as I have neither the same quantity of experience nor the gravitas of some of my illustrious predecessors (looking at you, Chris Johns-Krull). And it's a curious title, frankly. What does it mean to speak for the faculty? The faculty of this institution are a brilliant, and brilliantly heterogeneous group with a wide array of opinions. I know. I get the emails. (Which I greatly appreciate. Please send me emails; I want to know what you think.) And to state the obvious, no one person can speak for our faculty, and I think that is in fact the strength of our Faculty Senate here at Rice, that as a deliberative body it opens the space for our diversity of opinions and viewpoints from very different intellectual traditions and methodological commitments, to be heard and to be debated, and that this process is actually productive and fruitful and not simply dissension for the sake of dissension. We have a reservoir of mutual respect and goodwill here at Rice, both among our faculty and between the administration and the faculty, that we can both feel some degree of pride about and that we need to continue to intentionally cultivate. Our coming together here tonight is a wonderful demonstration of this goodwill; just the fact that we all acquired formal eveningwear for the occasion is really a stupendous testament to our eagerness to support our new president. Based on my experiences with both President DesRoches and Provost Dittmar just in the past few months, I have every hope and expectation that that we will all continue to do the work of cultivating this mutual goodwill in the new phase of the life of the university that we are embarking upon. That is not to say that we will always be in agreement with one another as faculty, or that collectively we will always be in agreement with our administration, but that we have the expectation of listening to one another and of acting in good faith for the betterment of the university.
I think that this transition in presidential leadership and our celebration of Reggie's investiture is in fact a really good occasion to reflect on our role, as faculty, in the university. Because the idea of faculty governance is premised on a claim about what the university is: that we are a body of individuals who are united in a purpose that transcends our own specific research agendas and the particular courses that we teach; that we share a commitment to the pursuit of knowledge, to the perpetuation of that knowledge, and, crucially, to the processes of intellectual critique through which our knowledge is continually subject to revision.
This commitment to critique, so essential to our scholarly work, applies equally, if somewhat differently, to our position as faculty within the university; it underscores the extent to which it is worthwhile, and in fact necessary, for us to take precious time away from our own research and teaching in order to engage and to support the broader mission of which we are a part; it acknowledges that the university is necessarily an ever-changing and ever-evolving institution, and that we as faculty must be active participants in bridging the gap between the university that we inherit and the one that we envision. What I mean by "critique" in this sense is aptly captured by Amy Hollywood, a scholar of religious studies, who defines the word expansively as precisely this gap between what is handed down to us and what is received, a gap that makes our very lives possible. "Critique," she writes, "emerges as a self-conscious modality in those moments when we realize that we occupy the world differently—or desire to occupy the world differently—than at least some part of the traditions into which we have been born demand." For Hollywood, then, to engage in critique is coextensive with the recognition that we are constantly making and remaking the worlds that we inhabit and that we share with others; it is to accept that we have been gifted, by the very traditions that simultaneously and by turns constrain and empower us, with the opportunity, and the responsibility, to creatively reimagine our collective future. As faculty of the university, our highest service is to critique: to be in partnership with our president and his administration in the project of imagining the future of the university; to offer our counsel, and perhaps at times our provocation, in order to further our common purpose, as we confront together the many challenges that await us.
President DesRoches, the faculty welcome you, we welcome your leadership, and we eagerly look forward to realizing with you our shared future at Rice.
The final speaker was President DesRoches, introduced briefly by Mr. Ladd. The faculty dinner was a new addition to Rice's inauguration traditions, and it had been created as the brainchild of President DesRoches himself, who wanted it to be a formal evening occasion. Taking the stage, the new president, but longtime professor, spoke with enthusiasm about the value of the faculty:
Thank you, Rob. And, thank you Allie and Amy.
It's really nice to see the faculty, all of the faculty, not just the leadership, all dressed up. We were taking bets on how many of the men would wear tuxedos.
Earlier today, Paula and I attended a luncheon on behalf of the staff at Rice University. That was the second of what will be eleven events between now and Sunday as part of the inauguration week of events.
As we were beginning the planning for the inauguration, I made it clear that I wanted to host an event to honor our faculty and signify the central role that you play. No matter what position I had in academic administration, including my current role as president, I have worked hard to never forget that first and foremost, I am a member of the faculty.
I am the first president in the history of the university to be hired from the ranks of faculty, as an internal candidate. I can't begin to tell you how important it is to me that I have your support and confidence.
This event is particularly special to me because of you, and the relationships that I have formed with this group during my time at Rice. If it were not for the support that I received from faculty during my first five years here, I would not be standing here today.
The faculty are the heartbeat of this university. Without your commitment to excellence and dedication to our mission, and the dedication to our students, Rice wouldn't be the institution it is today.
Yesterday, I attended the Rice Engineering Alumni Awards, which honored some of our most accomplished alums in engineering from multiple generations. Time and time again, as each recipient went up to provide remarks, they would talk about how a faculty member was instrumental in inspiring them either in the classroom or as a Ph.D. advisor. It reinforced the instrumental role that all of you play at Rice in inspiring the next generation of leaders.
People often ask what I am most excited about outside of no longer being provost since that was a really tough job.
Several things make me excited:
The exceptional talent that we have at all levels at Rice, including people we have been able to recruit in recent years. We are starting to see that in the national and international recognition that you are receiving (membership in NAE, NAS, AAAS; ENI prizes, record number of CAREER Awards). Our recent MacArthur Genius Winner, the first Genius Award we have had in nearly a decade and the first in the humanities.
A great new leadership team that brings a new energy to their roles and joins an exceptional group of vice presidents and vice provosts.
A great set of deans of our eight schools. Thank you for your leadership.
The faculty senate leadership both past and present, and an exceptional group of department chairs, center and institute directors, and others who play a critical leadership role at Rice.
An incredibly talented, supportive, and committed board of trustees, led by Rob Ladd. And alignment that exists among the faculty, leadership and the board of trustees who support the ambitions we have for the university.
On Saturday, you will hear more about the vision I have for the Rice.Core to that vision is the faculty and the excellence that you bring to the job every day. We will recommit to the importance of research, scholarship, innovation, and creative works in transforming our city and the world, and in the process our institution. We will hire more faculty, but more importantly, we will make sure they have the tools, support, and infrastructure to thrive and excel. We will build graduate programs that have the same level of distinction as our undergraduate programs. We will do all this while remaining committed to and strengthening undergraduate education for our students.
I ask for your support and your patience as we embark on a journey to evolve our university and take our university to the next level of excellence and impact.
To conclude, I want to thank you for all that you do for Rice. I have personally worked with many of you and know that you and your colleagues pour your hearts and souls into this university—into your research and scholarship, into our students, and it shows.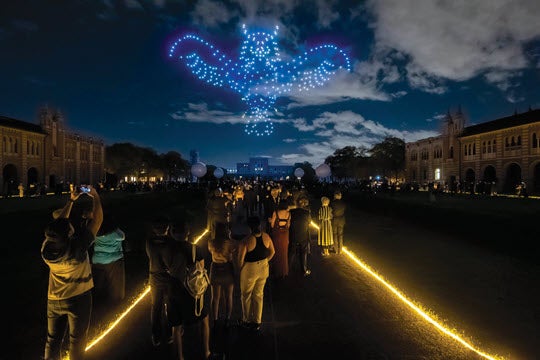 Following the main course, the group adjourned outside to the Academic Quadrangle for the debut of the Light & Sound Celebration, created by Verge Aero in consultation with the inauguration committee and designer Ian Searcy of ICDB, LLC. Four hundred drones rose into the dark sky from the roped-off west end of the quadrangle with lights in a brilliant array of colors. Darting about the sky for ten minutes, they formed into a series of images suggested to the creators by Rice historians John Boles and Melissa Kean, along with Greg Marshall, Rice's director of university relations, to capture Rice's history both on campus and beyond the hedges. Early in the series, following an abstract prelude, was a dramatic image of the Rice owl, and the drones evolved into such things as the Sallyport, a baseball, an open book, scientific symbols such as DNA, a music staff, Beer Bike, the circulatory system, a map of Houston's freeways, and the names of all Rice presidents, from Edgar Odell Lovett to Reginald DesRoches. Musical selections throughout, including Steve Reich's Music for Ensemble and Orchestra, gave way at the end to "For Rice's Honor" as recorded by the Marching Owl Band as the drones formed into the academic seal.
Following the light show, faculty guests made their way back to the patios of the Inauguration Pavilion, where a buffet of asserted miniature desserts was available. At 10:15 p.m., a lingering group of faculty and trustees were still enjoying desserts, wine, and coffee in the pleasant evening air, even as the catering crew began cleaning up for a busy second day of events.
On Friday, October 21, the Morrison Theater at the Brockman Hall for Opera hosted a celebration for a different constituency, the delegates from other institutions of higher learning, and professional and learned societies around the world. Rice community members and Houston residents represented some institutions, but in many other cases delegates arrived from out of town. For many of the Rice faculty and staff present, this was their first visit to the gorgeous new facilities of Brockman Hall. All delegates were invited to this event welcoming them. At a check-in desk to the left of the entrance into the brightly lit foyer, delegates received a Rice-themed tote bag with a welcome note from Robert Ladd, a map for self-guided tours, a silver-toned inaugural medallion in a blue velvet display box with a spring-loaded hinge, masks to use as needed for pandemic protection, inauguration stickers, an aluminum BPA-free Rice water bottle, a voucher for coffee at the Brochstein Pavilion, and even a clear-plastic-topped round metal box of customized Rice M&M candies in blue and gray, some with the Rice owl image and others with the wording "Rice Owls." A ribbon denoting the occasion attached to the tote bag handle a note from Reggie and Paula DesRoches: "Thank you for celebrating with us and for your steadfast support of Rice University."
Once delegates made their way into the Morrison Theater, the Dorrington Quartet, made up of students from the Shepherd School, provided a lively musical welcome from the performance stage. The curtain then dropped, and a lectern and seating were swiftly brought out to create a warm setting on the large rug adorning the stage in front of the curtain.
John S. Hutchinson, professor of chemistry, greeted the assembled delegates. Afterward, the multimedia presentation "This Is Rice," presented as a team effort by the Howard R. Hughes Provost Amy Dittmar and Vice President for Research Ramamoorthy Ramesh, introduced delegates to the achievements and aspirations of the various schools making up Rice. First Provost Dittmar and then Vice President Ramesh explained aspects of Rice's achievements and our aspirations for even greater excellence. Dittmar introduced a video greeting from President DesRoches, projected on a brilliant and large screen above the stage. Periodically, each speaker stepped aside then to allow the projection of an interview introducing examples of exceptional faculty research and achievement, featuring the various segments of campus. President DesRoches narrated the first video segment, introducing the university and its goals. With the setting and the opening quartet having showcased the Shepherd School of Music, the featured representatives of the other schools were Andrew Colopy, associate professor, from the School of Architecture; Robert Bruce, dean of the Susanne M. Glasscock School of Continuing Studies; Aditya Mohite, associate professor of chemical and biomolecular engineering and associate professor of materials science and nanoengineering, from the George R. Brown School of Engineering; Caleb McDaniel, Mary Gibbs Jones Professor of Humanities and professor of history, from the School of Humanities; Yael V. Hochberg, Ralph S. O'Connor Professor in Entrepreneurship and professor of finance, from the Jesse H. Jones Graduate School of Business; Caroline Ajo-Franklin, professor of biosciences, from the Wiess School of Natural Sciences; and Danielle King, assistant professor of psychological sciences, from the School of Social Sciences. Following these features, Vice President Ramesh also highlighted the many institutes at Rice that bring together interdisciplinary insights to focus on specific problems we face as we try to solve the "grand challenges" facing our society.
When not in use for showing the video features, the screen displayed a series of statements articulating Rice's values: "We Are Leaders," "We Are Unconventional," "We Are Curious," "We Are Creative," "We Are Collaborators," "We Are Wise," "We Are Aspiring," and "We Are Scholars."
At a bit past 2 p.m., John Hutchinson returned to the lectern to declare a ten-minute break. Some of the faculty featured in the videos were then present in the foyer to engage the inaugural delegates, and snacks and drinks were available. The delegates who remained seated were treated to a video explaining Rice's residential college system.
After the break, Hutchinson welcomed delegates back to the Morrison Theater for a talk by Sethuraman Panchanathan, director of the National Science Foundation. His presentation was part of the Civic Scientist Lecture Series of the Baker Institute for Public Policy and was incorporated into the inaugural program. David M. Satterfield, director of the Baker Institute, introduced Dr. Panchanathan's talk, which was titled "Innovation, Science Education, and the Enhancement of Americans' Quality of Life" and was followed by a short question-and-answer period.
At the session's conclusion, delegates to the inauguration had further options to learn about Rice. From 3:30 to 5 p.m., three guided walking tours were available. One showed the highlights of Rice, while the other two were more specialized, with one focusing on Rice's history and the other on the public art collection. For delegates preferring less walking, a second option was a showcase tour. Participants first walked to nearby Reckling Park to visit Rice Athletics' Pitching Lab. The tour participants then made their next door to see the Makerspace at the Moody Center for the Arts. Moving aboard a bus, this tour next took visitors to the Oshman Engineering Design Kitchen and on to the Farnsworth Pavilion for an exhibit on NEST360, an international alliance that originated at Rice and works to prevent newborn deaths in African hospitals.
The busy day for delegates ended with a cocktail reception under bright strings of lights between Alice Pratt Brown Hall and the Turrell Skyspace. As the waning sunlight reached the appropriate point, the visitors were treated to the "Twilight Epiphany" sunset sequence at the Turrell Skyspace and to music performed by Shepherd School faculty.
As the delegates were coming to know Rice on Friday afternoon, President DesRoches's attention shifted to two receptions for students.
With temperatures in the low 80s and clear skies, the undergraduate student reception from 2 to 3:30 had ideal conditions. Music from the Central Quadrangle wafted across campus even earlier than the usual Friday afternoon blasts from Sid Rich College, because the reception had a robust sound system and lively music curated by ethnomusicologist Flash Gordon Parks. Students filtered through the three serving lines to enjoy the food provided by the Reggae Hut. The offerings on this Caribbean menu were extensive: Jamaican patties, jerk wings, Creole shrimp, plantains, rice and peas, seasoned white rice, carrot cake, homemade fruit punch, and bottles of water. Tables under the trees allowed students finishing up class for the day to enjoy a leisurely late lunch. Others simply gathered and socialized. Students were also treated to a special inauguration sticker, perfect for decorating laptop covers. Beneath one of the giant live oaks, President DesRoches, looking comfortable in his Rice polo, shorts, and sneakers, welcomed all for conversation, photographs, and selfies. Eleven balloon pylons were color coded for the residential colleges, so some students showed their allegiance by posing in front of the appropriate column. Not until 3 p.m. did President DesRoches have a chance to grab a snack for himself. By 3:15 the stream of students had slowed. The departing undergraduates grabbed extra food and drinks for later, and it was time for the graduate student reception, which took place from 3:30 to 5 p.m. on the plaza adjoining Valhalla on its western side.

From the Central Quadrangle and the undergraduate reception, it was a short walk to Valhalla in spite of the construction zone around the beginnings of Rice's emergent Cannady Hall. Arriving at 3:37, President DesRoches immediately engaged a crowd amid the picnic tables under the live oaks. Always crowded on any Friday afternoon, the scene this day was more festive, with a balloon arch framing a stand for Dj Yad and his sound system. There were tables of food catered by Lemond Kitchen, the business of alumna Merinda Watkins-Martin. Chicken fingers, pasta, vegetables, desserts, and lemonade were on offer. Students who had registered in advance received an inauguration T-shirt with the GSA logo. (Inauguration T-shirts for undergraduates were distributed through the residential colleges.) At 4 p.m., the music paused, and President DesRoches was introduced by Dhiraj M. Jain, a graduate student in systems, synthetic, and physical biology and the GSA's VP Finance. President DesRoches's brief informal remarks emphasized the importance of graduate students to the work and intellectual life of the university. He particularly singled out for appreciation Seiichi Matsuda, dean of graduate and postdoctoral studies, who was present. The DesRocheses left around 4:10 to prepare for their evening events, but the food and music continued.
The showcase event of Friday evening was the Association of Rice University Black Alumni Celebration, held in the Inauguration Pavilion beginning at 6:30 p.m. With the weather remaining beautiful, cocktails were served on the patios of the pavilion as alumni and their guests, members of the DesRocheses' families, university trustees and administrators, and community guests arrived. At 7:20 the dinner chimes sounded to move the joyous crowds inside to the dining room, where Polo Vibe and the Vibe Band were already performing on the platform set up at the eastern end. Seated alongside President DesRoches at the table immediately in front of the platform was Sylvester Turner, mayor of Houston.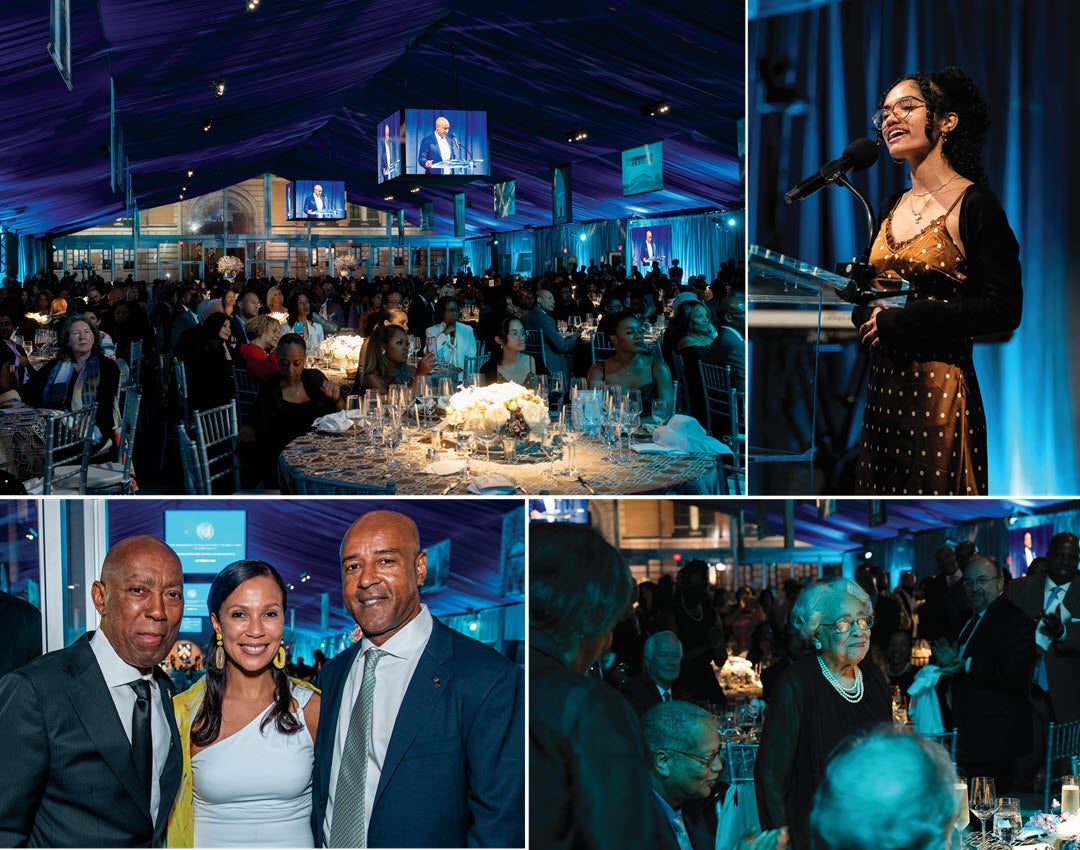 Jamila Mensah, president of the Association of Rice University Black Alumni, soon took to the lectern to welcome her fellow alums. She was followed by Robert Ladd, who likewise welcomed the group and then introduced Mayor Turner.
We are very fortunate to have Mayor Turner with us tonight. Our mayor has unified our city in all that he has done over the past several years. He has also been a very good friend of Rice University, most recently in the development of the Ion, our innovation district. Mayor Turner is a native of Houston, a graduate of our other favorite school across town and a graduate of the Harvard Law School.
Turner urged Rice to relish this historic event: "This is a very, very special moment," he said. He continued, "Let me thank Rice for having the wisdom and the boldness and the courage to make this possible." He urged President DesRoches to "take a moment to take it all in," and made further short observations savoring the contributions of President DesRoches's appointment to Rice and the city. Turner, scheduled to fly to Japan the following morning, departed the pavilion soon after his remarks. Next up was the reading of a poem by Avalon Hogans, the Houston Youth Poet Laureate and a first-year student at Rice. Evoking the inspiration of Maya Angelou and Langston Hughes and other notable Black writers, Hogans's poem, "Beautiful Day," was heard with admiration and much applause from the audience:
Langston Hughes said, "I, too sing America."
And as for me,
I, too write it.
Supremacists set me on the bookshelf when company comes
but regardless of my neglect,
I write.
I write America in cursive
with my ancestors' divine blood.
I write not for the white man
but for the Caged Bird inside of me.
I carry stories of tragedy
to deliver stories of pride.
What an emotional thing it is
to be a neglected canary that sings.
What a great weight it is to carry
these stories combined.
In all my resistance,
I find resilience so bright.
As the sun sits over me,
and the wind whispers
that I am my ancestors' hopes and dreams,
I must admit,
that even with this weight on my back,
it remains a fact,
that today is beautiful,
and it's a beautiful day to be Black.
Like my hair, America is twisted,
but unlike my hair,
America is undefined.
A jumbled narrative of loathe and love combined.
But on my Black bookshelf,
I'm reminded that America is ours: yours and mine.
Part of America is sung by Hughes,
written by Angelou,
led by Obama, Turner, and DesRoches.
Part of America is built by Black elders
and characterized by Black youth.
In this compelling company,
I must say,
whether reminiscing on our strength,
or stuck and struck from past attacks,
today is a beautiful day,
a beautiful day to be Black.
My pen is conflicted in composing narratives
of a land so double-faced.
But as I was the hopes and dreams of my ancestors,
my dream is that their stories will find a respectable, permanent place.
As we, too sing, write, lead, and make America,
I am one step closer to that dream.
What a beautiful day.
What resilient pride.
Donald Bowers, an alumnus and a trustee emeritus, delivered a touching invocation:
Almighty God … Father in heaven
We come before you this evening as humble as we know how
With joy in our hearts and tears in our eyes as witnesses to this occasion . . . the investiture and inauguration of Dr. Reginald DesRoches as the next (8th) president of Rice University.
It has been said that history is your story . . . and in your word you confirm that "the hearts of women and men plan their course, but Lord, you establish our steps."
It is in this spirit that we reflect this evening on our 110-year history . . . and we celebrate (more importantly we embrace) this milestone in the history of our alma mater as a grand step as we pursue our vision to make this university an example of excellence to our community and to the world.
Bless President DesRoches and his wife Paula … protect their family.
Give them wisdom, strength, courage, humility, and compassion to lead us into the next century.
We are grateful for their commitment to serve.
As we celebrate this occasion, we thank you for those who have planned this weekend's events.
And we thank you for the food we are about to receive.
In your name we pray, Amen.
With the band then returning to much appreciation from the assembly, the dinner began. The hearty menu follows:
Baby red and green romaine salad with roasted corn, cherry heirloom
tomatoes, shaved fennel, chives, crumbled goat cheese,
and whole grain mustard vinaigrette
Medallions of prime aged beef tenderloin, with Marchand de Vin
Twice-baked Yukon gold potato and white cheddar and scallions,
broccolini and dill muffins
The greatest applause of the evening, of course, came with President DesRoches's arrival to the lectern at the close of dinner, after an introduction by board chair Robert Ladd.
Thank you, Rob.
And, thank you Jamila for the kind words, and for your leadership of ARUBA. And, Avalon, for the beautiful poem.
Mayor Turner, thank you for all you do for our wonderful city. Whether it's your incredible efforts to make the city more resilient to the impacts of climate change or how you have handled homelessness, you have made Houston a model city and have consistently put us on the national stage as a place that can do anything it puts its mind to. We are so fortunate to have you as our mayor and I am personally grateful for your leadership, partnership, and friendship.
I also want to acknowledge a special guest that we have with us today. The Malawian Ambassador to the U.S. Embe Chombo. Thank you for being here. It's an honor to have you.
I am truly honored to be here with you to cap off what has been a full and exciting day of inaugural festivities.
While celebrating with our undergraduate and graduate students earlier today, and with faculty and staff yesterday, I was reminded over and over again just how grateful I am to be the eighth president of Rice University.
As I was practicing my remarks for the inauguration tomorrow, it was noted that I spent nearly half of my remarks thanking all of the people who have been instrumental in my journey to this position. I was also told that I have to stick to a certain time limit and there are no exceptions, not even for the president. So, let me take this opportunity to thank and acknowledge a few people who I won't have the opportunity to do tomorrow.
Thanks to the many friends Paula and I have made in the city of Houston during our short time here. In particular, the Black community has truly embraced us since we arrived in 2017.
I want to acknowledge my fraternity brothers who are here with us today from California.
We lived in Atlanta for more years than anywhere I have ever lived (eighteen years). We made numerous friends, many of whom are like family and are here this evening. In particular, Gil and Danielle, and Eric and Wivonia.
I have friends from California here tonight. Dante and Lisa and Kamau and Tony Torres, thank you for coming.
My high school buddies are also here; Steven, Nick, Donna, Keith and Denise. Although we graduated over 35 years ago, we are always there to support each other. Notice, I have them sitting off by themselves. That is intentional. They have been banned from talking to anyone about my high school years.
I have my two oldest friends, Kent and Yves, who were running the streets in Queens with me from the time we were five years old. Their stories are also off limits.
In addition to my siblings, who I will mention tomorrow, I have my uncles, Joe, Serge and John here, along with my ten nieces and nephews.
This is also a special weekend for one of my nieces, Jessica Austin. Just last night she and her boyfriend, Mike, got engaged. Congrats, Jessica and Mike.
When I married Paula, I married into an incredibly supportive and loving family, including her mother who lived with us for twenty years before passing away two years ago; Paula's sister, Dawn, and her husband, Lance; twelve aunts and uncles, and what seems like over a hundred first and second cousins, many of whom are here this evening. Thank you for being here tonight.
My appointment here is historic in that I am the first Black individual, first immigrant, and first engineer to become president of Rice. It's also significant because of what that means on a broader scale. It means that Rice is evolving. It's becoming more open, more accepting, more inclusive.
However, I would not be here were it not for so many of you here today who have paved the way for me to be standing here as president of this great institution. Today, we are fortunate to have with us Velma McAfee Williams, one of the first Black students to matriculate to Rice in 1965. She is here with her son, Dr. Marcus Williams. Ms. Williams, thank you for your courage and leadership, and thank you so much for being here.
I would like to thank members of the board of trustees for your service and leadership to this great institution, and for your continued support of the values of DEI that are so core to our university.
In particular, I would like to thank our Black trustees, past and present. You have been an agent for change at Rice. A special thank you to Teveia Barnes and Jeff Rose, our two first Black trustees, for being such pioneers and for your continued support.
A special thank you to our Black faculty at Rice. Your presence on campus means so much to our students.
I also want to extend a thank you to Rice leadership who uphold the values of DEI and continue to be agents of change at Rice: our Provost, Amy Dittmar, our deans and vice presidents and vice provosts, and in particular, Alex Byrd, our vice provost for DEI, who has been instrumental in many of the changes we have made in recent years.
And let me acknowledge the many Black alumni who are here this evening. You were here at a time of a very different Rice. A place where you saw very few people who looked like you and a time where you probably felt that people did not want you here. Your resilience, determination, and perseverance and courage is the reason I am here today.
If you are a Rice Black alumnus, please stand.
THANK YOU!
Rice has changed in many ways since you were here.
This class of 2026 has no single ethnic or racial majority, with 32% coming from underrepresented minority groups.
Our student body is over 10% Black, and we have over twenty-four Black faculty throughout the breadth of the University. We had eleven just five years ago. We have focused on hiring the very best people who add to the reputation and diversity of our great university and will continue to do so moving forward.
Our most recent hire, English Professor Kiese Laymon, who joined us this summer, is one of those hires, and in case you missed the news, two weeks ago, he received the highly prestigious MacArthur Fellowship, otherwise known as the "genius" award for his incredibly impactful contributions to literature.
We have Blacks in numerous leadership roles, including department chairs, vice provosts, vice presidents, and, now, a Black president.
The diversity of our community is a strength of the university, and something that should be celebrated.
We have come a long way as a school and a society, but there is still much work to be done.
Following the announcement of my presidency, I received hundreds of emails from Black alumni saying that they never thought they would see a Black president at Rice. I know many of you graduated, vowing to NEVER come back to campus, and I know for many of you, this IS your first time back to campus since you have graduated.
We need you back, RICE needs you back.
I hope you all have a good night and enjoy the music by DJ Red Soda.
I am supposed to say that I hope you enjoy the evening and music by DJ Red Soda. However, I know for a fact, there are at least two people here, my wife and Chancellor May's wife, Leshelle, who will dance all night long, which may create a problem for me since I have an early morning.
Thank you again for being here and I look forward to seeing you tomorrow.
At 9 p.m., as the standing ovation for the new president concluded, Mr. Ladd came to the stage to join Jamila Mensah in leading a toast to Reggie and Paula.
Wonderful remarks, Reggie, thank you. And now, Paula and Jamila, will you please join us on stage?
Reggie and Paula, we are all excited to be working with you during this transformational time at our university, and I would like to commemorate this special moment with a toast.
From my position as chairman of Rice, nothing is more important to me than this: everyone who comes to Rice each day, everyone who has ever attended Rice and everyone who comes to Rice in our future will find an environment that is welcoming, and where they feel respected and valued.
There are no better leaders to ensure this than Reggie and Paula DesRoches. Thank you both for your devotion to our university.
Jamila Mensah then dismissed everyone to make their way to the Academic Quadrangle for the night's performance of the Light & Sound Celebration.
Returning after that impressive celebration's conclusion just before 9:30, guests found a buffet of miniature desserts on the patio. Inside, the western end of the pavilion had been transformed into a dance floor. The TV monitors had replaced images of President DesRoches with stars and glitter and pulsing lights; spinning spotlights began to give the room an even more festive atmosphere. DJ Red Soda turned up the music, conversation reached new heights, and within a couple of minutes the dancing began. President and Mrs. DesRoches soon joined in. As the event's official end at 11 p.m. drew near, the dance floor and patio seemed as busy as ever.
Celebrations continued on Saturday. The investiture luncheon immediately following the investiture ceremony was a chance to bring together Rice's senior leadership, including college magisters, with delegates, political leaders and the consular corps in Houston, partners from major city institutions such as museums, the Texas Medical Center, and foundations, and other friends of the university to celebrate its new president.
The invited guests made their way to the Inauguration Pavilion as the Academic Quadrangle slowly emptied after the investiture. Reception music was provided inside by Shepherd School students Lena-Marie Stöger, violin, Katherine Butler, violin, Elissa Volling, viola, and Maximus Gurath, cello.
With everyone seated by 12:20 p.m., Chair Rob Ladd offered a concise welcome.
Good afternoon. It is my distinct pleasure, on behalf of the Rice Board of Trustees, to welcome you to the investiture luncheon celebrating the inauguration of Reginald DesRoches as the eighth president of Rice University.
We are thrilled to be joined today by President DesRoches' family and friends, dedicated volunteers, distinguished alumni, community leaders, and close friends of Rice.
This is truly a remarkable community, and your presence here is a testament to this significant moment in our university's 110-year history. Indeed, the growth and success of our university is intertwined with the city of Houston's, and I am particularly pleased to see so many members of the Houston community joining us today.
Today is a day of hope and optimism for our campus, our city and the greater enterprise of knowledge and discovery. As we continue to aspire to transformative research and global impact, we are excited to move forward with a leader who is inspirational, innovative, and universally respected. A visionary who is strategic and kind. Who, we know, will live up to the challenge of "no upper limit."
The luncheon guests then enjoyed a delicious meal:
Bibb lettuce wedge salad with crumbled goat cheese, toasted walnuts, watermelon, radishes, and whole grain mustard vinaigrette
Roasted Berkshire pork loin with rosemary-Chardonnay glace
Red bliss potato mash, broccolini, and artisan breads
Chocolate pecan tart with cinnamon-whipped mascarpone and espresso-caramel sauce
At each place setting, another smile-inducing feature was a souvenir sugar cookie frosted with the image of Lovett Hall and text denoting the date and occasion.
Just before 1 p.m., Chair Ladd returned to the lectern to introduce the speakers. First to address the luncheon was Marc L. Boom, president and CEO of Houston Methodist. Boom opened with a celebration of the DesRocheses: "It's a genuine honor joining you on this historic day as Reggie DesRoches takes over as Rice University's 8th president. I've known Reggie for some time through his wife, Paula, who I've had the great pleasure to work with at Houston Methodist for many years. I can safely say that Rice University is in great hands with Reggie in charge. Congratulations to both you and Paula, Reggie!" He then praised the current and future partnerships between Rice and Houston Methodist, spotlighting the Center for Human Performance, the Center for Translational Neural Prosthetics and Interfaces, and the Houston Methodist Innovation Hub at the Ion. President Boom singled out the Ion and its potential for Rice's interaction with other community institutions: "The Ion is the perfect space for this project as it fosters a community and culture where corporate innovators, academic partners, community partners, startups, and entrepreneurs can come together to solve some of the world's greatest problems."
Next to speak was Gary Tinterow, director and the Margaret Alkek Williams Chair of the Museum of Fine Arts, Houston. Tinterow in turn lauded "the deep ties and intertwined histories" of the MFAH and Rice over more than a century, with a number of architects, curators, administrators, and donors having relationships with the two "siblings" through the years. He emphasized "that the presence of a premier institution dedicated to excellence, such as Rice, attracted great talent to Houston, men and women who then shaped the city and its culture." Pledging that Rice will always find the MFAH to be "an eager partner," Tinterow told the attentive crowd, "I am excited by the prospect of working with President Reginald DesRoches and his wife Paula Gilmer DesRoches, the latest example of a premier institution attracting the best talent in the world. Excellence begets excellence."
Boom and Tinterow each mentioned the coincidence that he is the eighth leader of his respective institution, befitting the theme that the city and Rice are growing together. The university's partnerships with these and other key Houston institutions are and will continue to be mutually beneficial, as not only Rice but also other Houston organizations advance their national and international reputations and ambitions.
President DesRoches then followed to thank very briefly the speakers and the luncheon guests. He expressed particular appreciation for the work done by his predecessors, including David Leebron, who was present, and Malcolm Gillis. Elizabeth Gillis, widow of Malcolm, was present, and President DesRoches told an anecdote of receiving from her some of Malcolm's ties, one of which he was wearing for this luncheon. President DesRoches then reinforced the point of the luncheon speakers that Rice and the City of Houston make each other stronger. Mr. Ladd then invited Paula to join Reggie on the platform for a toast.
Thank you, Reggie. And now, I would like to commemorate this special moment with a toast. Paula, would you please join us on stage?
Reggie and Paula, we are all extremely excited to be working with you during this transformational time at our university.
This morning I said that Reggie has led an exemplary life, and I would certainly say the same of you, Paula. To me, this is the greatest accolade I can offer. It is not only your outstanding qualifications as leaders. It is who you are—your commitment to people and to improving lives. I am thankful that at this time in our university's history, when we aspire to greater research stature and global recognition, we have found the right people to take us there. Please know, there is a dedicated and talented community putting our full support behind you, and we are ready to take your lead. On behalf of the board, my own family and the entire Rice community celebrating with us today, we look forward to working with you both, and cheers.
The program wrapped up just after 1:15 p.m.
On Saturday afternoon at 2, following the investiture and the investiture luncheon, an alumni reception took place on the patio and in the capacious lobby of the Anderson-Clarke Center. Long tables of desserts and appetizers from the Hometown Chef Catering Co. greeted the guests in the lobby, and wine and beer were on hand at the bar before the front windows. Conversations were buzzing from the beginning, and just before 2:30 President DesRoches, having shed his tie and looking relaxed, joined in. Shortly, though, at 2:33, Toya Cirica Bell, president of the Association of Rice Alumni Board, took to the lectern and welcomed the group. An important component of her brief opening remarks was to acknowledge and thank the two alumnae who co-chaired the inauguration committee, Gloria Meckel Tarpley and Elle Lewis Anderson. Bell also introduced James Hurley, only some eleven weeks into his role as executive director of the ARA. Hurley conveyed his enthusiasm for intensified and strengthened outreach to alumni and shared several vignettes of alumni reaching out to him already in his short tenure. Bell then invited Robert Ladd to the lectern. He extemporaneously recognized an alumnus in the audience who had attended every investiture except the first. Mr. Ladd then introduced and welcomed President DesRoches. The highlight of his short remarks was his recollection of how much he enjoyed traveling to meet alumni during his time as dean of the Brown School of Engineering. With closing remarks, Toya Cirica Bell ended the formal program at 2:50 and conversations resumed.
The inaugural weekend reached its denouement with the investiture gala in the Inauguration Pavilion on Saturday evening. This black-tie event brought together the Rice Board of Trustees, many emeriti members of the board, the university's senior leadership team, the friends and family of the DesRocheses, leaders of major institutions in Houston, and significant supporters of the university's work.
The gala began with cocktails at 7 p.m. As guests made their way toward the pavilion, the energizing sounds of the Bella Electric Strings made the first impression. Performing from the second-story balcony of the Founders' Room in Lovett Hall, the quartet played string arrangements of popular hits, with emphasis perhaps on selections from the 1970s and 1980s. The interior of the pavilion had been transformed for the gala. Crystal chandeliers and blue accent lighting had been added to the foyer, and the magnificent flower arrangements there and at each table now featured all-white flowers, dominated by roses and orchids. During the cocktail time, long white curtains separated the foyer from the dining area, but just before 7:45 staff began drawing back the curtains to reveal the beautifully reconfigured space, with eight persons per table. Alongside the wine and water glasses, each place setting also had a memento of the occasion: a substantial inaugural medallion in muted gold tones inside a hinged deep-red wooden commemorative display box with a magnetic clasp. (This medallion and the one given to the delegates echoed the handsome ones issued for the Rice Centennial in 2012 and the Rice Semi-Centennial in 1962.) By 8:17 everyone was seated, and Robert Ladd welcomed the elegantly attired crowd. The massive air-conditioning units that had cooled the pavilion for three days eased their chilling blasts to let everyone clearly hear his opening remarks. He introduced a touching video, about seven minutes long, that highlighted President DesRoches's life story and the accomplishments that brought him to this post.
Greetings. It is my pleasure to welcome you to the Investiture Gala, our final event celebrating the inauguration of Reginald DesRoches as the eighth president of Rice University.
We are pleased to be joined tonight by some of our most dedicated leaders, supporters and friends. Each of you plays a vital role in the success of this great university, and Rice would not be the institution it is without you. We are so pleased to have you here.
Throughout this inauguration weekend, we have expressed our enthusiasm for Reggie's appointment as Rice's president, pointing to his extraordinary qualifications, the way he has excelled as an engineer, dean and provost, and celebrating his profound impact as a colleague, mentor, and friend.
And now, please enjoy this special video showcasing the leadership and accomplishments of our eighth president, Reginald DesRoches.
After the video, Mr. Ladd then announced the start of dinner, and the air conditioning shortly resumed. Guests enjoyed 2019 Etude Chardonnay and
2018 Stags' Leap Cabernet Sauvignon, and the delicious dinner menu included the following:
Lump crab salad with avocado, cucumber, three-celery melange, and charred lemon and truffle coulis
Filet of prime aged beef tenderloin with sauce Robert, watercress, and asparagus risotto
Red wine braised salsify
Long-stem artichoke
Porcini and rosemary focaccia
At 9 p.m., just after the salad course, Mr. Ladd returned to the lectern to introduce three Shepherd School students—Jimena Montserrat, soprano, Collin LaHood, tenor, and Michael McDermott, tenor—and their accompanist Bethany Self, piano, a member of the Shepherd School faculty. They held the audience's rapt attention for "La donna è mobile" from Verdi's Rigoletto, sung by McDermott, and "Tonight" from West Side Story, sung by Montserrat and LaHood. As the main course was served, Mr. Ladd introduced Paula DesRoches. She invited to the stage her and Reggie's three children, Andrew, Jacob, and Shelby, and introduced them. Paula then shared her thoughts about the sides of Reggie that the campus does not get to see every day, his roles as husband and father during their long marriage.
Thanks, Rob.
Before I begin, I want to extend a huge thank you to everyone who has made the past few days so special for Reggie and our family. It has been exhilarating meeting so many of you and talking with those we've already befriended. We all look forward to partnering with you for the betterment of Rice, its students, faculty, staff, and extended community.
Now, more about your new president—Reginald DesRoches.
If you do not already know, Reggie also happens to be my husband and our father (kids chime in and say "our father").
I know many of us have met, but for those of you who we haven't connected with yet, I would like to formally introduce you to myself and my family.
My name is Paula Gilmer DesRoches,
Andrew: I'm Andrew DesRoches,
Jacob: I'm Jacob DesRoches,
Shelby: and I'm Shelby DesRoches.
I'm here to briefly provide you with a snapshot of Reggie the husband, father, family member and friend to give you a sense of who he is as a person and to give you an idea of how he will lead this great University as president.
Professionally, Reggie is described by many as razor focused on his strategic mission and accomplishing the goal at hand. This translates into a commitment to unwavering discipline and hard work in his professional but also in his personal life. As a youth, he excelled in math and science, in particular, which led to his interest in Mechanical and Structural engineering. As an undergraduate, Reggie's goal was to attend a strong STEM program, which almost led him to attend Cornell University. Instead, he chose Berkeley and he later decided to continue graduate studies there instead of Stanford. I was coincidentally a student at Berkeley at the time as well.
We first met at a meeting of incoming freshman. Reggie likes to tell a fictional account of how I couldn't stop staring intensely at him while he was giving a welcome speech to the group. From my vantage point, it was clearly the other way around. He was staring and looking intensely only at me while he was presenting. The truth is probably somewhere in the middle. To make a long story short, we started dating a few years later and have been married for 27 years.
As a husband, Reggie is sentimental, loving and truly thoughtful. He often puts my needs before his own no matter how busy he is at work. One example of his thoughtfulness: He still tries to prepare and serve me breakfast in bed on Sunday mornings if I allow him to do so.
Reggie is spiritual and frequently reflects and attributes many of his life's blessings to the support and faith of those who came before him, namely his father, Jean Alfred DesRoches who is with us tonight and Marie Theresa DesRoches, whose angelic spirit is with us tonight.
As a father, Reggie was masterful at balancing work and home, rarely missing our kids' many events, providing help with schoolwork no matter how busy and continually providing support and encouragement. I know that our three children would agree that he continues to be a pillar of support to them.
Some may be surprised that Reggie's propensity for focus, discipline and a competitive spirit is also visibly displayed in his personal life, whether it's competing in the annual family cooking competition or pulling for his hometown and favorite sports teams, the NY Mets and NY Jets. He's fiercely loyal and supportive, which explains why he continues to stand by the New York Jets.
On a serious note, his loyalty, discipline, and hard work which I have described, coupled with his commitment to integrity, humility, accountability, gratitude, innovation, scholarship, research, and excellence in all that we do at Rice are qualities that will create a positive impact on this university and will define his tenure as Rice's 8th president.
Congratulations, Reggie. I'm proud of you and know Rice will be too.
At just after 9:15, Paula then introduced the featured speaker, a longtime friend of hers and Reggie's. Chancellor Gary May of the University of California, Davis gave a lighthearted and warm fifteen-minute reflection on a friendship with President DesRoches that reaches back to their time together as students at the University of California, Berkeley and later as colleagues for nearly twenty years at Georgia Tech:
Good evening. I'm Gary May, chancellor of the University of California, Davis. I'm honored to [be here] for the inauguration of Reginald DesRoches as president of Rice University.
It's wonderful to see so many colleagues, friends, and family here to help celebrate and show their support. And especially his wife, Paula, and their children, Andrew, Jacob, and Shelby.
I can't think of anyone more deserving or better prepared to lead Rice University.
I first met Reginald more than 35 years ago at UC Berkeley. Back then, we were both engineering students, but at different points in our academic journey. He was a sophomore. I was getting started on my master's degree.
Despite our age difference, we became fast friends through the Black Engineering and Science Students Association, otherwise known as BESSA. We also were involved with the National Society of Black Engineers. These kinds of communities were crucial for us.
Let me provide some context . . . when I got my Ph.D. in engineering from Berkeley in 1991, I was one of only about thirty African Americans who had done so that year. I'm talking thirty in the entire United States.
So, needless to say, there weren't many Black engineering students on campus. As it turns out, that was both a curse and a blessing. It could be pretty lonely at times. That was the curse.
However, many of us were looking to build community with people who had similar backgrounds and could relate to our struggles and issues. As a result, we leaned on each other and supported each other to succeed. And we created lifelong friendships, like the one I have with Reginald. That's been the great blessing.
Berkeley engineering provided a solid foundation of academic excellence and the benefits of mentoring that would serve us well in our careers.
My connection with Reginald didn't end there. We worked together at Georgia Tech for more than five years. I had the pleasure of appointing him to the position of chair of Georgia Tech's School of Civil and Environmental Engineering in 2012.
In fact, he was the first person I thought of for that role. I knew he was the best person for the job, the best person to lead civil and environmental engineering at Georgia Tech into the future. And that's exactly what happened.
During his tenure, the school rose to the top of the rankings, achieving the No. 2 spot in the U.S. News & World Report graduate rankings. That was the highest ranking in the history of the school.
I couldn't be more thrilled to see him take the helm of the prestigious Rice University. He's especially well-suited to build on Rice University's focus on undergraduate education and teaching. And to build on your commitment to diversity, equity, and inclusion. His background also aligns well with this university's strengths in applied science programs.
Speaking of science programs, I understand Rice University has a long history of excellence in exploring vast new frontiers … in space science research, space engineering and space technology development. As a fan of Star Trek, I'm both intrigued and a little envious.
As I was preparing to speak with you today, I came across the famous quote from former President John F. Kennedy.
We choose to go to the moon in this decade and do the other things, not because they are easy, but because they are hard.
He said that on Sept. 12, 1962, in Rice University's football stadium.
Back then, Rice University—indeed, the world—was on the cusp of a new frontier, with eyes on the sky, with dreams of deep space exploration and with a goal to land on the moon.
One year later, in 1963, Rice University would establish the first space science department in the United States. Imagine . . . that even pre-dated Star Trek, which debuted its first episode in September of 1966.
When President Kennedy spoke here in 1962, he also predicted that Houston would become "the heart of a large scientific and engineering community."
Well, look at you now. Rice University is at the very heart of that community.
I can say wholeheartedly: Reginald is the right leader to take Rice University boldly into the future: He has the vision, scholarship, experience and confidence to do so.
Of course, you already know that because he's been serving Rice University since 2017, when he accepted the post as the William and Stephanie Sick
Dean of Engineering at the George R. Brown School of Engineering. Just as he did at Georgia Tech, he helped increase the school's stature and rankings. And he helped to grow research programs.
He has continued to serve Rice University as provost and now, president, a role that is certainly well earned.
It's true that higher education leadership is not for the faint of heart. It has both challenges and opportunities. Universities are complex institutions with an incredible range of people looking to get your ear and your guidance.
The opportunity as a leader is to bring people together, to set the proper tone from the top, and to inspire others to be the best versions of themselves.
The challenges are tremendous as well. We're living in times of deep political divisions, of distinguishing between free speech and hate speech. And of course, the COVID-19 pandemic has been a true test for all of us, especially those in leadership. We've had to pivot quickly and make difficult decisions on such short notice, especially with the safety of our community being a top priority.
I have no doubt that Reginald is ready to meet this moment. Students often ask me how I manage when times get tough. I look to my family for strength and support. I'm an optimist at heart, and I know there's a positive solution if you work hard enough to find it and bring others along with you. I know that Reginald thinks this way as well and will inspire others to do the same.
With this inauguration, Reginald DesRoches will carry on a long and proud tradition of excellence at Rice University. But I expect he will do much more than that. He's the kind of person who always has a grand vision for the future. And he has the charisma and compassion to inspire others to work collectively for the greater good.
He's the kind of leader who continues to explore bold new frontiers.
Whether it's academics, research, scholarship, engagement, or any other aspect of higher education, you can count on him to continue to raise the bar.
As President Kennedy said right here on this campus 60 years ago: "We choose to go to the moon."
Now, I don't know if he ever aspired to go to the moon or to travel on SpaceX. But one thing I do know about Reginald … he aims high.
He chooses to serve, to innovate and to lead. Not because it's easy. But because it's the right thing to do. Because it will serve students, faculty and staff. Because it will make Rice University, higher education and the world better.
I'm confident Reginald will take Rice University to new heights of excellence.
Congratulations to my dear friend, Rice University President Reginald DesRoches. I wish you and everyone at Rice University all success in the future.
Thank you.
At about 9:35, Mr. Ladd returned to bring President DesRoches to the stage, where he was greeted by a raucous standing ovation. His remarks were brief as he reflected on the richness of the weekend's events, with the gala being the eleventh he had attended, and expressed his and the institution's appreciation for the exceptional support given to Rice by many individuals and institutions represented in the room.
Wow! That was incredible. Thank you, Gary, thank you Paula and thank you Andrew, Jacob, and Shelby. What an amazing past few days.
Let me set the record straight, that Paula was indeed staring at me that day in 1988.
I am so grateful and humbled by everyone's participation in this week's inauguration festivities and I am honored to be here with you tonight to cap off the festivities with this group that is so important to the Rice community. All eleven events that I had as part of this week's activities was special in its own way.
I want to thank everyone for coming tonight and for your continued support. As Rob said, each of you plays a vital role in the success of this great university.
Much of this university's success couldn't be done without our early visionaries such as Edgar Lovett and Malcom Gillis. Malcolm's widow, Elizabeth Gillis, and Lovett's grandchildren, Malcolm Lovett and Mary Hale Lovett McLean, are here with us this evening. Thank you so much for coming.
Many thanks to David and Ping, who have been there for me throughout my journey at Rice and who have celebrated with me this week. David, your contributions to this university have been tremendous. I look forward to continuing many of the successes you implemented during your time at Rice.
Our board of trustees, past and present, are the university's guiding light. Thank you, Rob, Bobby, Jim, and all of our other board members for all that you do for Rice.
And, to our alumni, community partners, and donors.
The power of your support is seen in the many buildings across campus that mirror the disciplines they house—Maxfield Hall, Kraft Hall, O'Connor Engineering and Science Building, Tudor Fieldhouse, and the Brian Patterson Sports Performance Center are just a few examples.
Your support is also evident in Rice's impactful schools and programs such as the Glasscock School of Continuing Studies, the Doerr Institute for New Leaders, the Kinder Institute for Urban Research, the Welch Institute for Advanced Materials, and the Moody Endowment for Student Life. I am truly excited about the impact these programs will have on our students and the world.
All of your dedication, partnerships and support translates into meaningful solutions to some of our city's, and the world's, most pressing problems.
Thank you for giving so generously.
I would like to thank the co-chairs of the inaugural committee—Fred Oswald, chief marshal and professor; Rob Ladd, chair of the board of trustees; and board of trustees members Elle Anderson and Gloria Tarpley.
I can only imagine how much time and effort you all spent on such a wonderful series of events and am amazed by the thought and creativity that went into planning and executing them so seamlessly.
Thank you!
I would also like to acknowledge the members of the inauguration committee. If you are here tonight, please stand. Thank you for all of your time and effort. I know it wasn't easy on top of all of your other duties and expectations.
Next, I would like to thank any and all staff who worked in some way or another to make all of this happen. Again, please stand if that is you. THANK YOU!
As many of you heard earlier this morning in my inaugural speech, Rice has accomplished a lot over the past 110 years, but there is more to be done.
I ask for your continued support and your patience as we embark on a journey to evolve our university and take us to the next level of excellence and impact.
Rice is well equipped to move to new heights.
We have exceptional faculty at all levels, many of whom are receiving national and international recognition for their work.
We have a great new leadership team whose members bring a renewed energy to their roles and join an exceptional group of VPs and vice provosts.
A great set of deans are leading our 8 schools along with a superb faculty senate and an exceptional group of department chairs, center directors.
An active group of alumni and friends who are supporting and promoting Rice any way they can. Thanks, Toya for the work you and past presidents of the Association of Rice Alumni have done to support Rice.
And, finally, alignment exists among the faculty, leadership, and the board of trustees who support the ambitions that we have for the University.
Even with all of this, we need the support of EVERYONE who has a vested interest in this university. It's going to take us ALL working together to push Rice forward to new and exciting levels of discovery, scholarship, and impact.
I look forward to this journey and to hearing from you, learning from you, and working with you to make Rice stronger together. Thank you again for coming this evening and for your ongoing support.
President DesRoches closed by inviting Rob Ladd, Gloria Tarpley, and Elle Anderson to the stage to receive a gift showing his appreciation for their work in leading the committee that planned the inaugural weekend.
The tent slowly emptied as guests made the short walk to the Academic Quadrangle for the final showing of the Light & Sound Celebration, which over its three performances had attracted increasing numbers of attendees, including neighbors of Rice and other members of the Houston community. Afterward, the celebrants returned to the Inauguration Pavilion to find a buffet of miniature desserts and a custom crepe stand on the northern patio, with the music of the Bella Electric Strings again pouring down from the Founders' Room balcony. The bar was open on the southern patio, and waiters circulated with platters of Perrier-Jouët Grand Brut Champagne. As some guests returned to their original tables for their dessert, others dispersed around the patios and the foyer of the pavilion, deeply engaged in their conversations. By ones or twos or in small groups, they eventually drifted away, bringing the evening quietly to its close. As departing guests handed their tickets to the parking attendants from Sovereign Services near the southern border of Founders' Court, each received a parting gift, a package of three apple cider donut truffles. A blue ribbon with white lettering noting the occasion secured a note to the package of treats. It read, "Thank you for celebrating with us and for your steadfast support of Rice University." It was signed Reggie and Paula DesRoches.