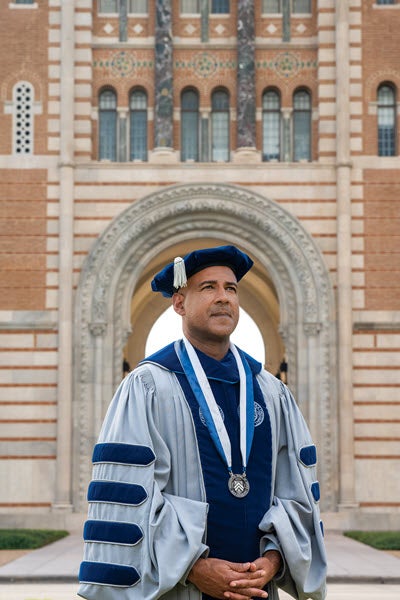 From Thursday, October 20 to Saturday, October 22, 2022, William Marsh Rice University formally welcomed Reginald DesRoches as the institution's eighth president. President DesRoches took office July 1, 2022, but traditionally the investiture has taken place during the fall semester, allowing the full campus community of students and faculty to join the celebration alongside staff, community members, and a distinguished roster of visitors.
Rice's opening in 1912 led to a distinctive published set of books containing the speeches and narratives of the events that took place. Those three attractive volumes still adorn the shelves of many of Rice's faithful. But beginning with the 1946 inauguration of the second president, William Vermillion Houston, Rice has documented inauguration events with a short book like this one. Similar to its predecessors, this volume introduces President DesRoches, offers a quick look at the university's past, captures a snapshot of the university's present, documents the presidential search process, and, most importantly, details the inauguration events themselves.
In the eighteen years since the most recent of Rice's inaugurations, much has changed at Rice and in the world we serve with our missions of research, teaching, and service. There are new buildings, more students from more places around the nation and the world, new majors and interdisciplinary and interinstitutional research endeavors. All of these exist alongside Rice's ongoing commitments to personalized teaching and mentoring in an intimate setting and to productive relationships with the ever-expanding Houston community.
To celebrate these complexities, the inauguration included multiple events. Planning was led by a large and diverse committee co-chaired by two alumnae and trustees, Elle Lewis Anderson and Gloria Meckel Tarpley, and Rice's chief marshal, Dr. Fred Oswald. Staff, student, and alumni receptions and meals with faculty and the leadership of Rice allowed the campus community to mark the occasion. An investiture ceremony on campus included students, faculty, and representatives of myriad academic institutions and learned societies. It was followed by community gatherings at which the various political, civic, academic, and institutional leaders of Houston were invited to join Rice in celebrating this transition.
The address by the new president is, of course, the key moment of any inauguration. At Rice, the moment inevitably evokes thoughts of the celebration of the opening in 1912. That three-day opening ceremony included "The Meaning of the New Institution," a lengthy address by Rice's first president, Edgar Odell Lovett. Remarked upon many times by his successors in the office, President Lovett's remarks established that Rice would begin its mission "for the Advancement of Literature, Science, and Art," as its charter mandated, with the sciences and then develop more strength in the humanistic fields over time. With its eight schools ranging from engineering to architecture to humanities, Rice is fulfilling that vision. President DesRoches has taken the helm of an enterprise thriving across all disciplinary boundaries, even as it reaches for higher levels of excellence.
President DesRoches's address captured the challenge thoughtfully when he proclaimed, "In the coming years, Rice will significantly increase its visibility and impact as a premier research university. We will have graduate programs of the same distinction as our undergraduate programs, all while strengthening what Rice is well known for—an unparalleled undergraduate education. This university will be grounded in all we do by the values of diversity, equity, and inclusion, a place known for its culture of care, tolerance, and understanding."
Many thanks to Amanda Focke, head of Special Collections and the Woodson Research Center, and her colleagues for providing the list of congratulatory letters and to Kelly Quin of Development and Alumni Relations for providing the lists of delegates to the investiture. We owe a debt to the many speakers who shared the prepared version of their remarks for inclusion in the book and to Cynthia L. Wilson and Kimberly Vetter for help in assembling them. For readers, having those polished versions in this volume eliminates the little stumbles always present when remarks are transcribed. A few typographical errors were corrected.
For those who attended, this book can be a reminder of the pleasant events around a historic moment in Rice's development, and for those who were not able to be there, perhaps these details can make the events come to life.