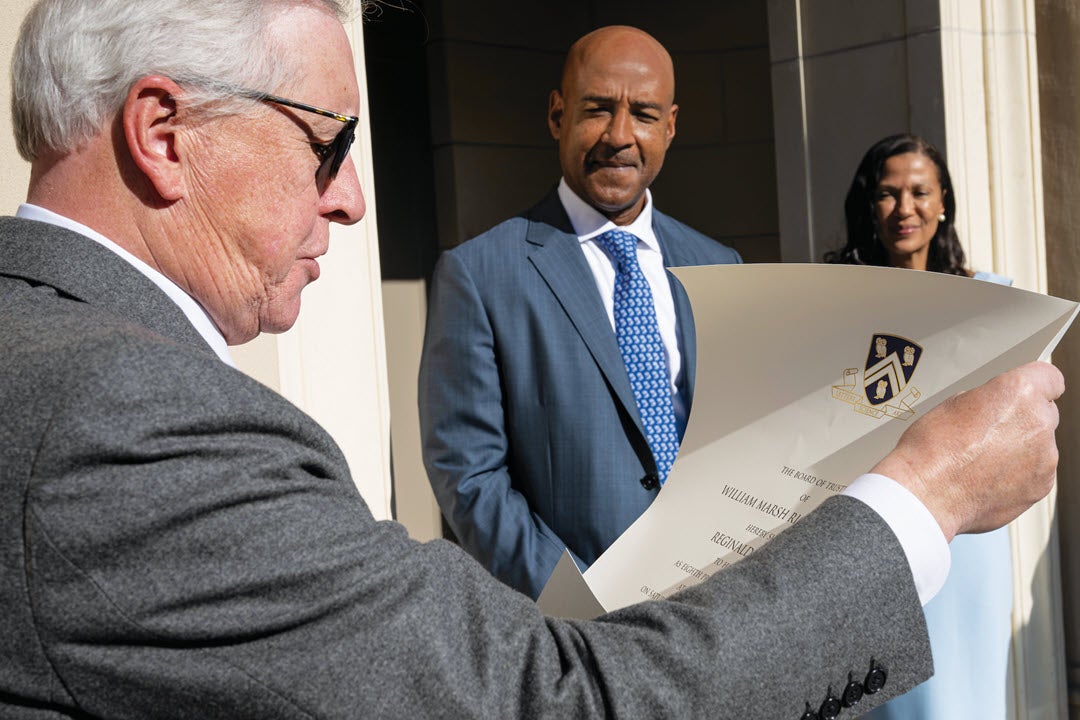 The Friday morning of the inauguration weekend began with Rice's adaptation of an old European university tradition, the formal summons of Reginald DesRoches to his investiture. On this beautiful but humid morning just after 9 a.m., a distinguished group began to gather on campus at the Nancy and Peter Huff House. The early arrivals enjoyed coffee and pastries as the full array assembled by 9:30 a.m. Photographer Jeff Fitlow and videographer Brandon Martin and their helpers circulated to record this event as they would throughout the weekend.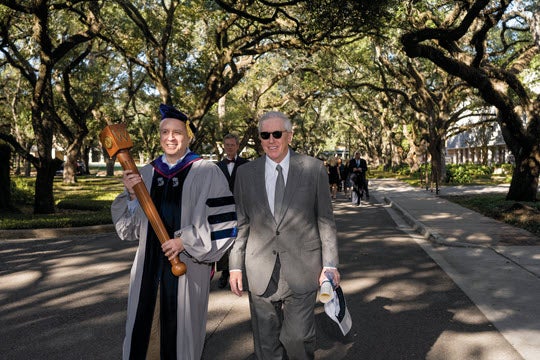 Dressed in academic regalia and carrying Rice's ceremonial mace to mark the occasion's official purpose was Fred Oswald, chief marshal of the faculty and the Herbert S. Autrey Chair in Social Sciences. Robert Ladd, chair of the board of trustees, carried the scroll containing the summons, secured by a blue ribbon. A strong representation of trustees, some of them having arrived from long flights late the previous evening, were present to witness this moment, as were several key members of the administration, some of the staff whose planning work had facilitated this moment, and the president of the Student Association.
At around 9:45 a.m., the photographers and videographers arranged the group on the steps of Huff House to record the moment, and then Professor Oswald and Mr. Ladd led a procession winding its way to Sunset Boulevard, where Rice RUPD officers helped the group cross safely. The early morning irrigation sprinklers had done their work for the foliage on the gravel pathway outside the gates of the Wiess President's House at the corner of Sunset Boulevard and Main Street, so it was with careful steps that the group entered the ground and made their way to the entrance of the home. Professor Oswald's knock brought Reginald DesRoches, in a blue suit and a tie decorated with Rice owls, and his spouse, Paula Gilmer DesRoches, to the door. Stepping outside, they and the audience received a brief welcome from Mr. Ladd, who then read the summons:
The Board of Trustees of William Marsh Rice University hereby summons Reginald DesRoches to his investiture as eighth president of the University at half past nine o'clock on Saturday the twenty-second of October, Two Thousand and Twenty-two, in the Academic Quadrangle.
As Mr. Ladd handed over the parchment scroll and all eyes turned back to President DesRoches, he answered the summons with enthusiasm, "I'll be there. I can't wait."
Amid general joviality at the succinct response, the group chatted and exchanged further greetings, and posed again for photographs at the front and side of the terraced entryway. They then began the return walk at individual paces, with anticipation for the events to come that day and the next.