The presidential search process kicked off publicly when, on June 10, 2021, Robert T. Ladd Jr., chair of the board of trustees, sent the following message to Rice stakeholders:
Dear Rice Community,
I am pleased to announce the formation of the Presidential Search Committee to select Rice University's next president. All of the search committee members have demonstrated a strong commitment to Rice and each brings special and unique expertise and experiences to the committee. The 16 members of the committee are:
Anna Margaret Clyburn '21, former Student Association President
Jim Crownover '61, former Chairman and Trustee Emeritus
Ann Doerr '75 '76, Trustee Emerita
Doug Foshee '92, Trustee
Terrence Gee '86, Trustee
Tommy Huie '87, Trustee
Klara Jelinkova, Vice President of International
Operations and Information Technology
Chris Johns-Krull, Speaker of Faculty Senate,
Professor of Physics and Astronomy
Patti Kraft '87, Trustee
Robert T. Ladd '78, Chairman, Board of Trustees
Brian Patterson '84, Trustee
Danielle Perdue '18 '21, former President,
Black Graduate Student Association
Rebecca Richards-Kortum, Professor of Bioengineering
Ruth Lopez Turley, Professor of Sociology
Scott Wise '71, Trustee Emeritus and former President,
ARA Board
Huda Zoghbi, Trustee
The Presidential Search Committee will work diligently, on behalf of the entire Rice community, to recruit our university's next great leader. With so much achieved under President Leebron's leadership, we are confident that Rice's extraordinary reputation will attract an outstanding group of candidates.
We intend to reach out for input from stakeholders in the coming weeks. The committee has already retained the international search firm of Russell Reynolds Associates, whose engagement team has extensive experience in higher education. We will provide you with periodic reports on the committee's progress.
In the meantime, President Leebron continues doing great work for the university and he is very focused on the year ahead.
Thank you for your steadfast support of our university. The future for Rice is bright and we can all take great pride in what we will accomplish together.
The committee reached out to Rice's many constituencies as it sought advice on what to seek in a president. The alumni, for example, were asked to take part in a town hall and listening session with the committee to consider three things: "(1) what Rice's aspirations should be, (2) where its strengths lie, and (3) what attributes should define the next university president." Faculty and staff were similarly invited to the town halls to reflect on these topics. By July 2021, the committee and the search firm, Russell Reynolds Associates, had finalized a detailed document, describing the "University President Position," that answered these questions with both sweep and detail for potential applicants. (That document is reproduced in this volume and provides a succinct and revealing snapshot of Rice and Houston at this moment of transition as the university articulated a vision of itself and the city.)
The interviews for the position occurred in three steps, beginning with ten strong candidates chosen from the myriad applications and nominations and culminating in a day-long marathon of several two-hour interviews for the finalists. President DesRoches explained to the Rice Thresher, "They're intense interviews, very stressful. But it was [also] great because it's conversational and you get to talk about your views, your experiences, what you've done, what you could bring to this role."
The search concluded on November 11, 2021, when Mr. Ladd announced Reginald DesRoches as the choice of the board of trustees. Mr. Ladd explained the process that had taken place in the intervening months:
The search for our next president began approximately four months ago when President Leebron announced his plans to complete his 18-year tenure in June of next year. Thanks in large measure to David's remarkable accomplishments during this era in Rice's history, there was great interest among potential candidates as we began our search.
The search committee we formed included two students, three faculty members and 10 trustees. With the expert assistance of our search firm, we identified many highly qualified candidates from around the United States. This was truly a national search.
From a larger pool, we focused on 10 exceptional candidates, all of whom are from top AAU research universities, many of them from institutions ranked among the top 10 in the nation. As we reviewed the candidates, we focused on two critical traits.
First, we were seeking a proven leader who would be transformational, leading Rice to even greater stature in national recognition, focusing on retention and recruitment of our great faculty, and continuing to build excellence in all that we do at Rice—excellence in all areas from Architecture, the Arts, Humanities, Music, Social Sciences, Natural Sciences, Engineering, Business, Continuing Studies and Athletics.
Second, and just as important, we were seeking a leader who would inspire and gain the respect of everyone. We wanted a leader who is empathetic, courageous, visionary, strategic and kind. We looked for a leader not only for Rice, but also our broader community.
In the end, we concluded one candidate would be the most impactful for Rice. Reginald DesRoches will be the next president of Rice University.
The "University President Position" brochure, July 2021
The University
Rice University is a highly selective, private research university located on approximately 290 acres in the heart of Houston, Texas, the fourth-largest city in the United States. As a leading research university with a distinctive commitment to pathbreaking research, scholarly activity and the highest quality graduate and undergraduate education, Rice faculty engage in major research on grand challenges and are committed to contributions to the betterment of our world. It seeks to fulfill this mission by cultivating a diverse community of learning and discovery that produces leaders across the spectrum of human endeavor.
The university opened in 1912 as the Rice Institute. Located in an undeveloped area near the then-small city of Houston, it began with four buildings: Administration Building (Lovett Hall), Mechanical Laboratory and Power House (now known as Maxfield Hall), South Hall (Will Rice College) and the Institute Commons (Baker College); a faculty of 10; 77 students; and a $7 million endowment. Tuition was not charged until 1965. Rice granted its first undergraduate degree in 1916 and its first graduate degree in 1918.
Rice was accredited by the Southern Association of Colleges and Schools Commission on Colleges (SACSCOC) in 1914. Its accreditation was reaffirmed in 2016 with its next reaffirmation scheduled for 2026. The university has grown to include approximately 90 buildings and its endowment market value was $6.2 billion as of June 30, 2020.
Rice is one of 65 members of the prestigious Association of American Universities, an organization of leading research institutions dedicated to the highest quality of research and scholarly activity, education and public service. Rice is a small urban university that offers the full range of engineering, science, humanities, social sciences, music, architecture and business opportunities. It is consistently ranked in the top 20 of both U.S. News & World Report's best national universities and the Wall Street Journal/Times Higher Education Best Colleges. Niche has ranked Rice in the top 10 of private universities in two of the last three years.
In carrying out its mission, the university is guided by the Vision for the Second Century, Second Decade (V2C2), adopted by the Board of Trustees in January 2018. Rice's vision and plan for the next decade is driven by the mission, values, essential attributes, history and a driving ambition to contribute to our world through excellence in education and research. Rice recognizes that the world is in a dramatically changing environment, both in higher education and the world at large. The university must anticipate those changes, envision a future, plan for that future and adapt to it. While these goals guide the university, they are also ever evolving in order to educate, improve and sustain the world. The seven core values are:
Provide Transformative Undergraduate Education
Build Renowned Graduate Programs
Invest in Faculty to Achieve Preeminence
Expand Access, Diversity and Inclusiveness
Elevate Research Achievement and Reputation
Extend Rice's Reach and Impact
Engage Houston and Empower Its Success
To achieve its prior strategic plan, Rice announced in 2008 a campaign to raise $1 billion by June 2013. The university exceeded its goal, raising $1.1 billion. The campaign raised funds for scholarships, endowed chairs, graduate fellowships, buildings and athletics facilities. In November 2014, the university launched the Initiative for Students, a three-year initiative to mobilize alumni, parents and friends in support of attracting, educating and preparing Rice students for a life of impact and leadership. Fundraising priorities included select academic priorities, internships, undergraduate research, scholarships and graduate fellowships. Significant commitments to the initiative include $50 million toward a comprehensive leadership development program for all students and a $16 million gift for an entrepreneurship program. Current fundraising efforts are focused on projects that will support the university's V2C2 goals and will include scholarships and other programs to ensure student success, endowed chairs, graduate fellowships and facilities, which includes new buildings for visual and dramatic arts and engineering and science.
At a Glance
Size: 4,052 undergraduate and 3,484 graduate degree-seeking students
Selectivity: 24 applicants for each place in the freshman class
Faculty: 698 full-time and 197 part-time instructional faculty
97% of the full-time instructional faculty have a doctorate or terminal degree in their field
A focus on teaching: Undergraduate student-to-faculty ratio of just under 6-to-1 with a median undergraduate class size of 14
Research excellence: Approximately $145 million in annual externally funded research expenditures during the 2019–20 academic year
Rice encourages engagement of undergraduate and graduate students in the creation of new knowledge and technology
Residential college system: 11 close-knit and diverse communities
Mission Statement
As a leading research university with a distinctive commitment to undergraduate education, Rice University faculty are committed to engaging in pathbreaking research, unsurpassed teaching and contributing to the betterment of our world. It seeks to fulfill this mission by cultivating a diverse community of learning and discovery that produces leaders across the spectrum of human endeavor.
Academics
Rice offers more than 50 undergraduate majors across seven divisions of study, including architecture, business, engineering, humanities, music, natural sciences and social sciences. Additionally, minors, interdisciplinary and preprofessional programs complement the comprehensive curriculum, with multiple opportunities for research, scholarly activity and collaboration.
George R. Brown School of Engineering
The George R. Brown School of Engineering is a top-ranked program that empowers the next generation of leaders with strong technical and communication skills, creative problem-solving and the ability to work in multidisciplinary teams. The school's nine departments and 22 institutes and centers distinguish it as a world leader in energy research, data science, biotechnology, artificial intelligence and machine learning, and advanced materials research, to name a few.
Jesse H. Jones Graduate School of Business
The Jones Graduate School of Business is a forward-thinking business school for the next generation of global leaders. The business school is dedicated to making an impact in the understanding of how individuals and organizations succeed and improve the world through their activities and leads its graduates to launch highly effective and innovative firms.
School of Architecture
The smallest professional degree program situated within a top research university, Rice Architecture allows individual attention with the breadth of study afforded by a major university. The small 5-to-1 student-to-faculty ratio encourages a close-knit community that provides both undergraduates and graduates with thoughtful instruction. The School of Architecture draws extensively from other disciplines to forge new territories of speculative practice.
School of Humanities
The humanities at Rice engage in the discovery, preservation and communication of the past and present in order to more deeply understand contemporary society while fostering the imagination of a new future. The school goes beyond the standard disciplines, utilizing its collaborative and interdisciplinary centers, programs and minors, to form the foundation for a more fully integrated and connective humanities.
School of Social Sciences
The School of Social Sciences is a vibrant, inclusive community of scholars, students and educators committed to connecting teaching and research with policy for the betterment of society. The school includes seven departments with one mission—to tackle society's greatest challenges with an unconventional vision toward shaping a future that we can all thrive in.
Susanne M. Glasscock School of Continuing Studies
The Susanne M. Glasscock School of Continuing Studies connects Rice University to Houston and the world, offering exemplary educational opportunities for career changers, game changers, lifelong learners and everyone in between. The courses are designed by subject matter and taught by experts using real-world best practices.
The Shepherd School of Music
The Shepherd School of Music cultivates the mastery of musical performance, combining a conservatory experience with the educational opportunities of a leading research university. The school limits its student body to 290 uniquely gifted young musicians and gives each major access to world-class teachers dedicated to cultivating talent and professional success.
Wiess School of Natural Sciences
A small school with a global vision, the Wiess School of Natural Sciences sees the universe as its laboratory. Intense curiosity drives its students and faculty members to explore the unknown. From hunting the smallest subatomic particles to investigating the unfathomable distances of our universe—and scientific inquiries at every scale in between—the goal at the heart of the School of Natural Sciences is discovery.
Development and Alumni Relations
The Rice University Development and Alumni Relations (DAR) division works in tandem with the institution's approximately 60,000 undergraduate and graduate alumni in support of the university's aspirations and in building a strong and supportive community. When adjusted for size, the Centennial Campaign, which raised $1.1 billion, was a towering achievement, ranking among the most ambitious fundraising efforts in higher education to date.
Since the completion of the Centennial Celebration, alumni participation and engagement have continued on a strong trajectory. In fall 2020, Rice received its largest-ever gift of $100 million to create the Welch Institute, a partnership with the Welch Foundation focused on world-leading advanced materials research. Annual giving participation in fiscal year 2021 included over 29.6% of undergraduate alumni.
Rice is committed to an integrated approach to advancement. The DAR staff of more than 120 individuals work in very close concert with the university's Office of Public Affairs, academic units, enrollment management and athletics along with other partners across campus. The most important partner in these endeavors is, of course, Rice's president. DAR maintains a close working relationship with the president and the staff within the Office of the President to drive transformational philanthropy and meaningful engagement from its alumni, parents and friends.
Rice Alumni Relations has seen many positive results with its events engagement and outreach even during the pandemic. Our Homecoming and Reunion Weekend was rebranded to include our Parents and Families Weekend during fall 2020 as a series of primarily virtual events called, Owl Together. The 2020 event engaged more diverse and young alumni from more national and international locations than ever before. The event's success has led us to combine these events once again for Owl Together 2021, which will combine in-person and virtual events to offer both the live connections our alumni desire while still making Rice more accessible to alumni than ever before. DAR also assists in coordinating presidential travel targeted toward individual alumni as well Presidential Visits, regional headlining events meant to build connections in top markets across the country and internationally. Alumni also engage globally by region- and affinity-based programming.
Rice Alumni By Geography
Where in the U.S. are Rice Alumni?
There are 53,309 alumni living in the United States and territories as of Nov. 2020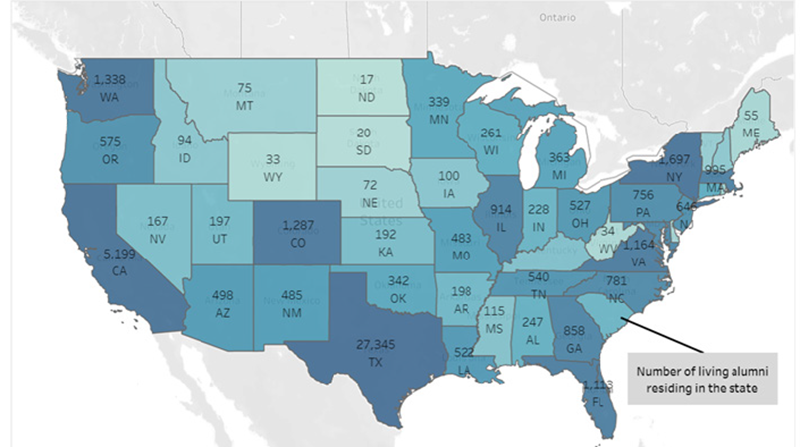 Where in the world are Rice Alumni?
There are 2,744 alumni living outside of the U.S. as of Nov. 2020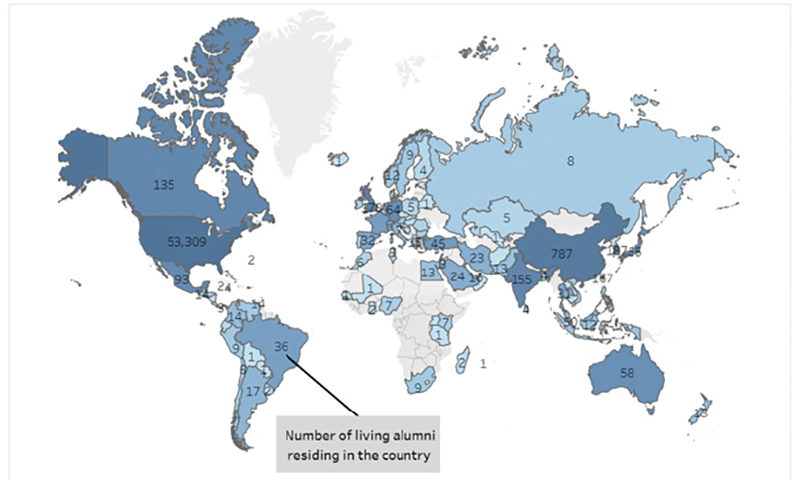 The Rice Investment
Rice has taken a bold step toward making education affordable with our signature financial aid program, The Rice Investment. Through a need-based financial aid package, The Rice Investment grants families in specified income ranges awards that either cover full tuition, fees, and room and board; full tuition; or half tuition, depending on total income and assets. Rice also meets 100% of demonstrated financial need for families that do not fall within the specified income ranges. Over 57% of Rice undergraduates receive some type of aid and 75% of students graduate debt-free.
University Governance
Over the past century, Rice has been able to uphold its founding president's vision of an institution "of the highest grade" while still providing a superior education to students at tuition levels much lower than comparable schools. This has been possible because of the university's dedicated leadership throughout its history. It takes many people to successfully govern a nationally ranked research university, from the president and other officers to the Rice University Board of Trustees to each member of the university committees. In particular, the collaborative relationship between the president and the faculty senate is central to the concept of shared governance at Rice.
Board of Trustees
First and foremost, the Rice Board of Trustees is responsible for advancing the university's mission and ensuring its financial health and future sustainability. The board currently consists of 25 members who are fiduciaries of the institution. As such, their duties are: 1. duty of loyalty—to act in the best interest of the university, not their own interest or the interest of another person or organization; 2. duty of care—to act in good faith and with due care, diligence and skill in the exercise of their duties and responsibilities; and 3. duty of obedience—to ensure that the university is operating ethically in furtherance of its stated purpose and in compliance with the law.
The role of the board is to set the vision and determine the strategic priorities of the organization, provide advice to the president and the management team, oversee strategy implementation and performance, develop and evaluate the president, monitor the legal and ethical performance of the university, prevent and manage crises, and procure resources and fundraising for the institution.
Rice's bylaws provide for as few as four or up to 25 board members. All have equal voting rights and serve without compensation. Under Rice's charter, a simple majority of the trustees must reside in Texas and at least four must reside in the Greater Houston area. New trustees are elected to four-year terms and can serve two consecutive four-year terms before having to roll off the board for a year. Trustees are subject to an age retirement requirement of 72. The president of the university is an ex officio and full voting member of the board but does not count against the maximum number of trustees as provided in the bylaws. Board appointments begin July 1 and expire June 30. The board typically meets four times a year.
Much of the board's work is conducted through the following standing committees: Academic Affairs, Audit, Buildings and Grounds, Compensation and Organizational Development, Development and Alumni Relations, Digital Learning, Finance, Information Technology, Public Affairs and Trustees. In 2009, the Investment Committee of the board was replaced by the board of directors of the Rice Management Company, an unincorporated division of Rice formed by the board to oversee the management of the endowment. The bylaws of the university provide for an Executive Committee, which may exercise most of the powers of the full board between board meetings, except powers delegated to other board committees.
Rice's vision and plan for the next decade is driven by the mission, values, essential attributes, history and a driving ambition to contribute to our world through excellence in education, research and the full range of scholarly activity. Rice recognizes that the world is in a dramatically changing environment, both in higher education and the world at large. The university must anticipate those changes, envision a future, plan for that future and adapt to it. While these goals guide the university, they are also ever evolving in order to educate, improve and sustain the world.
About Houston
Diverse. Vibrant. Culturally rich. Unrivaled cuisine. There are endless ways to describe the Space City. Houston offers a variety of opportunities for world-class arts, booming industry, education, technology and research, professional sports and an award-winning food scene. Central to all of it—both in physical proximity and city progress—is Rice University.
At a Glance
Home to 24 Fortune 500 companies
More than 7 million residents in the Greater Houston area
Largest medical center in the world
Fourth-largest museum district in the country
55,000 acres of city green space
Dining scene made up of 10,000 restaurants
Six professional sports teams
145 different languages spoken
A Diverse Community
Houston is one of the youngest and fastest-growing cities in the nation—one with no ethnic majority, where nearly 1-in-4 residents are foreign-born and more than 145 languages are spoken. A true cultural mosaic, Houston boasts restaurants, shops, neighborhoods and festivals that reflect its many global influences.
A Global City
Houston offers a well-developed suite of key global industries—including energy, life science, manufacturing, logistics and aerospace. Rice has many historical and modern ties to NASA. Rice began its first research collaborations with NASA in 1959, just months after the agency was founded. In 1962, as part of Rice's semicentennial celebrations, then-President John F. Kennedy spoke at Rice Stadium, challenging the United States to become "the world's greatest space-faring nation."
Houston is becoming a hotbed of rapid technological development thanks to its access to customers and expertise. Rice is proud to be at the center of the new economy. The Ion, the centerpiece of a Houston innovation district that Rice is involved in, aims to increase the diversification and resiliency of the regional economy by creating an urban, pedestrian-focused, mixed-use space that embraces technology, community and sustainability.
A thriving international city, Houston's ties stretch to all corners of the world. The region's geographic location makes it easy to move both goods and people around the globe. With one of the largest ports in the country and two international airports, Houston connects companies to the world.
The Role
The President of Rice University reports to the Board of Trustees and is responsible for the academic and administrative leadership of the university. Reporting to the president are the following:
Provost
Vice President for Development and Alumni Relations
Vice President for International Operations and IT and Chief Information Officer
Vice President for Administration
Vice President for Global and Digital Studies
Vice President for Enrollment
Chief Investment Officer and Vice President for Investments
Vice President for Public Affairs
Vice President and General Counsel
Vice President for Finance
Key Priorities
The president will lead the development of and implement a vision that supports Rice's goals. The president serves as chief fundraising officer, oversees resources, and enhances outstanding faculty and educational programs.
In addition to the day-to-day responsibilities of running the university, the next president will have the opportunity to focus on the following opportunities.
Provide Transformational Leadership
Facilitate the development of a vision that supports Rice's goals over the next decade.
Anticipate higher education trends and seize opportunities to invest in the university's future.
Invest in undergraduate and graduate education, research and scholarly activity, and the development of faculty, staff and students.
Support initiatives that enhance the student experience.
Advance the collaborative and interdisciplinary opportunities for research and academic programs.
Catalyze Growth
Catalyze a universitywide expansion that includes faculty, facilities, research and graduate studies.
Drive a 20% growth in undergraduate enrollment by 2025.
Open a 12th residential college and increase the number of students living on campus by one-third.
Support the addition of full-time faculty to maintain a high student-faculty ratio at the undergraduate level and to further the graduate and research mission of the university.
Spearhead the building of additional facilities, including a new engineering building, a new building for the visual and dramatic arts, the additional residential college and a new student center.
Enhance the university's research capability by strategically investing in scholarly excellence, as recently exemplified by the Welch Institute's focused initiatives in materials research, clean energy and new technologies for national security.
Raise Visibility and Resources
• Elevate the university's profile nationally and internationally by articulating
its core values and comparative advantages.
• Foster collaborative relationships with organizations outside the university to
strengthen the culture of innovation and creativity across the university.
• Strengthen philanthropic support from individuals, foundations, corporations
and external partners.
Strengthen Organizational Culture
Foster a culture of diversity, equity and inclusive excellence.
Encourage the recruitment, development and retention of a diverse faculty and staff.
Advance the research agenda by continuing to improve the research infrastructure.
Cultivate a positive working environment for faculty, staff and students.
Qualifications
Rice is seeking a transformational, strategic, bold and inspirational leader who will engage all constituents in advancing the university's central mission and supporting its core values. The president will be an accomplished academic leader with the experience and skills to build on the university's many strengths. In addition, the president should have qualifications and personal characteristics that are well matched with the university's values, achievements, aspirations and potential. Strong candidates are expected to demonstrate the following:
Stature as an eminent scholar with a broad interest in all of Rice's disciplines who is able to foster an academic culture that engages and inspires Rice's exceptional faculty, staff and students.
Motivational leader with an authentic passion for engaging with a diverse community on campus and beyond, including a deep appreciation for shared governance.
Demonstrated understanding of sponsored research activity and a track record of fostering interdisciplinarity, diversifying funding and raising an institution's research profile.
Successful record of operational management and leadership, demonstrated through roles such as president, provost or dean.
High emotional intelligence and strong interpersonal skills, including the ability to thoughtfully engage and motivate faculty, staff and students.
Ability to build consensus and to make decisions in a consultative, collaborative and transparent manner.
Outstanding communication skills, including public speaking and writing, to represent Rice enthusiastically, to advocate on its behalf and to inspire others to support its mission.
Genuine alacrity for engaging with all constituents and skilled at balancing competing interests.
Deep appreciation for Rice's distinctive approach to education and scholarship, which is characterized by close interaction between professors and students—both graduate and undergraduate—and a commitment to an exceptional student experience.
Expertise in catalyzing change, forming synergistic partnerships and managing risks.
Ability to build and empower high-performing teams and foster collaborations across campus.
Track record of fundraising that would indicate readiness to lead Rice's advancement efforts.
International perspective, including an interest in seizing opportunities globally to advance Rice's impact.
Commitment to the value of diversity, equity and inclusion and successful experience fostering environments that reflect those values.
Experience enhancing relationships between an institution and its surrounding community, forming meaningful and mutually beneficial partnerships.
Dedication to academic excellence as evidenced by the recruitment and retention of an outstanding faculty and the growth of innovative programs, departments or schools.
An interdisciplinary thinker, able to think creatively across schools and to drive collaborative endeavors across boundaries.